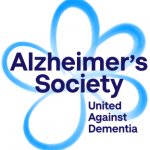 Why are Secure Healthcare supporting Alzheimer's Society United Against Dementia?
We work with the Alzheimers Society to ensure that if you or a loved one has alzheimers you can get the support you need. All you need to do is get in touch with us and we can sort an extra level of support for you, showing you that you are not alone.
What is the Alzheimer's Society?
The Alzheimers Society is the UK's leading dementia charity. They campaign for change and fund research to find a cure and support people living with dementia. There is currently no cure for dementia and with someone diagnosed every three minutes, it is more important than ever that we work together to find a cure.
The Alzheimers Society provides support in many ways. The first of these is "Dementia Connect" an innovative new service aimed at combining face to face support with telephone and online advice and information from specially trained Dementia Advisors and trained volunteers. They provide a range of group services for people who are affected by dementia which aims to provide reassurance, improve confidence and motivation and allow those affected by dementia to get advice and information. The Alzheimers Society is taking their strategy beyond individual cases and is fighting for the Department of Health and Social Care & the NHS England to commit to invest in tackling the social care crisis to aim people with dementia. They want it to be the top of the agenda in the government and have many campaigns to try and achieve this. The past fifteen years has yet to see a new dementia drug introduced and while the present ones help in ways, they don't slow dementia down or stop it getting any worse. They have a drug discovery program focused on investigating treatments by repurposing drugs used for other conditions; this means dementia treatments could be available much quicker and cheaper.
Some of their main ambitions are:
By 2022, the public are aware of the challenges posed by dementia
By 2022, people affected by dementia are in control and able to make choices about the care and support they access
By 2022, relevant research into cure, care and prevention is generated
By 2022, research findings are translated into improved care, treatment and information
By 2022, all people newly diagnosed with dementia will have an offer of support
By 2022, people will be able to manage dementia and live better
You can find out more about the Alzheimers Society by visiting their website here. Get in touch with us also, we can talk through any questions and queries you might have.