Are you an individual, or do you have a family member in need of home care? Or are you an organisation seeking healthcare staffing solutions? Perhaps you are looking for your next healthcare career step? Secure Healthcare Solutions can help. We provide the highest quality of healthcare across England and are proud to have done so since 2015.
Care work can be a sensitive task, which is why our company is only built up of the most dynamic individuals with a wealth of knowledge and experience in healthcare. You can trust that your loved ones will be in safe hands with us, as we offer a full "out of hours" on call service and are always there to support you in your hour of need.
If you are an organisation that needs a temporary or permanent solution in the healthcare sector, our good old fashioned values and a knowledge of modern technology will ensure patient care is delivered to maximum effect. Our mission is to deliver the very best service to our ageing population and those with disabilities while reducing the cost of care and simultaneously increasing the pay to our committed staff members.
We pride ourselves on providing over and above the basic training for our entire workforce to ensure a consistently high service for our clients and service users. Our staff training programme is always active and up to date with the latest regulations.
When faced with illness or immobility, it can be a struggle to carry out the everyday activities that you may have once performed with ease. We understand that there is no place quite like your own home, and that is why our discreet personal care service is designed to support you with your day-to-day living, as well as providing you with the encouragement and emotional support that you may need to remain living independently. Our personal care service can assist you with personal hygiene needs, administering medication at a time to suit your convenience.
Maintaining your dignity
is of paramount importance to us, which is why our experienced and knowledgeable carers will ensure you feel comfortable at all times. We have a dedicated team who will support you every step of the way, from your initial enquiry through to the delivery of care. We promise to always be there for you in your time of need.
Where can I find personal care near me?
If you are looking for personal care near you, we are here to help. We offer respite care in Wolverhampton, Walsall, Birmingham, Dudley, Sandwell, Cannock, Telford and many more. Simply check out our map here to find out the nearest to you.
What can we do for you?
Bathing
Your personal carer is able to fully support you with your bathing/showering requirements. They can assist you in getting in and out of the bath or shower safely, as well as
washing and drying your hair and body, if required, in a way that ensures your
dignity is respected. Should you be able to bathe independently, they are able to sit with you and offer support when needed; giving you peace of mind that someone is there to ensure your safety.
Dressing
Fastening buttons and zips, and tying laces are simple processes to most of us. However, for many individuals, such things can become impossible tasks when you have with a
disability or are getting older. If you need help getting dressed and undressed, you can rely on our kind personal care team to provide support to make things easier for you.
Bed Routine
Our personal care team are able to assist you getting in and out of bed at a time which suits your own routine. In addition, we can also provide support with hoisting, if required.
Continence
We are able to support both your urinary and faecal continence whilst preserving your dignity at all times. Your carer can help you to get to and from the toilet and, where
required, will monitor your personal hygiene in order to maintain and support
your health and comfort. This can include changing catheters and stoma bags,
incontinence pads and sheets, and help with bathing and changing clothing.
Meal Times
As part of our personal care service, our carers are able to support you with all aspects of meal times. This can include assisting with your weekly shopping, helping with the
preparation of your meals and managing the food in your house.
Housekeeping
Our carers can assist you with light household duties as part of your personal care service and will help with tasks such as laundry, vacuuming and washing up. If you are able to
complete these tasks yourself, in order to maintain your independence, our carers
can just be on hand to offer support where required.
Medication Assistance
You may sometimes forget to take your prescribed medication or may struggle to take it the correct way, which could put your health at serious risk. Our personal care team are able to
alleviate this worry by prompting you to take your medication and ensure you're
taking the right dosage and at the right time. If remembering to take your medication is not a problem, but you're unable to physically take it due to your condition, our carers can be able to help administer your medication, provided there is a clear prescription to follow.
Want to find out more? Secure Healthcare Solutions will work hard to find you an experienced candidate that will help you with all your personal care needs. Call us today on 01902 302017, or write to us at homecare@securehealthcaresolutions.co.uk.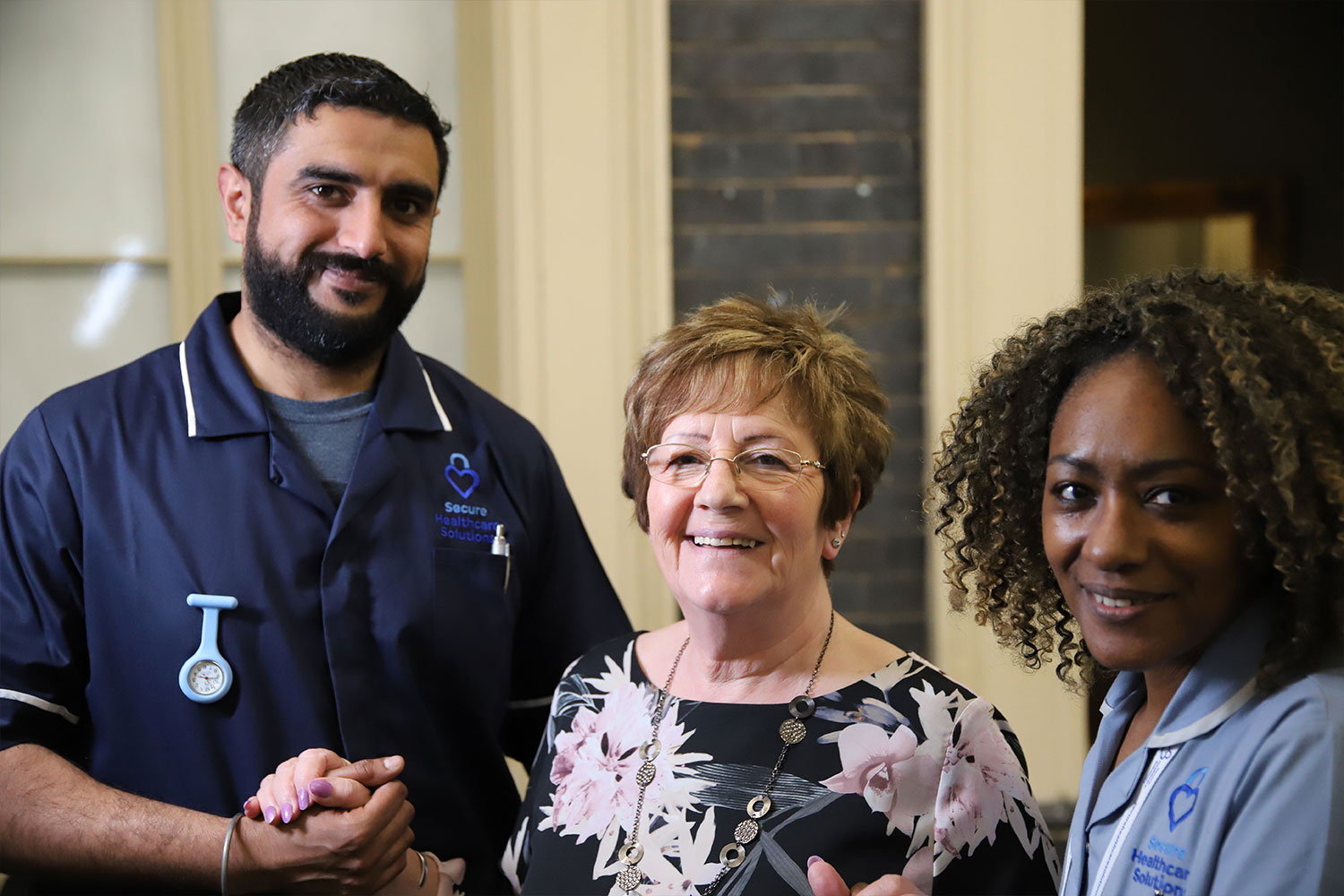 How can I find personal care home jobs near me?
At Secure Healthcare Solutions we have a range of personal care home assistant jobs and other vacancies. If you are looking for Personal care jobs in Wolverhampton, Sandwell, Birmingham and further afield please check out our current job vacancies page to see what we have available and don't hesitate to get in touch.
"Absolutely fantastic service! Thank you."
Jennifer Lowe