Are you an individual, or do you have a family member in need of home care? Or are you an organisation seeking healthcare staffing solutions? Perhaps you are looking for your next healthcare career step? Secure Healthcare Solutions can help. We provide the highest quality of healthcare across England and are proud to have done so since 2015.
Care work can be a sensitive task, which is why our company is only built up of the most dynamic individuals with a wealth of knowledge and experience in healthcare. You can trust that your loved ones will be in safe hands with us, as we offer a full "out of hours" on call service and are always there to support you in your hour of need.
If you are an organisation that needs a temporary or permanent solution in the healthcare sector, our good old fashioned values and a knowledge of modern technology will ensure patient care is delivered to maximum effect. Our mission is to deliver the very best service to our ageing population and those with disabilities while reducing the cost of care and simultaneously increasing the pay to our committed staff members.
We pride ourselves on providing over and above the basic training for our entire workforce to ensure a consistently high service for our clients and service users. Our staff training programme is always active and up to date with the latest regulations.
As you get older, we know how important it is for you to maintain your independence and to keep enjoying the things you have always done. With Secure Healthcare Solutions you can stay in your own home spending your time doing the things you love instead of having to do the everyday chores that life requires.
How do I find live-in care near me?
If you find yourself looking for a live in care agency you have come to the right place. At Secure Healthcare Solutions we offer live-in care in Birmingham, Wolverhampton, Dudley, Walsall, Sandwell, Cannock, Telford and Birmingham, aswell as many surrounding areas. For a full list of where you can find our live-in care service check out our map here.
What is a live-in carer?
Our live-in care service is most suited to those who need someone to be with them during the day and night, whilst maintaining a high level of independence within the comfort of their own homes. Live-in care can be offered as a respite or short-term care solution. Our flexible, experienced and fully trained staff will live with the person being cared for in their home, allowing them to continue their routines and lifestyle. This can reduce disruption and anxiety, often shortening recovery times due to the level of support offered.
There are many scenarios where live-in care is the perfect solution, this can include:
A well-deserved break for the main carer
Emergency cover
Prevention of unnecessary nursing home admission
Time spent recovering from an illness in your own home following an operation
Accompaniment on holiday
Trialling our service whilst you decide your plans
We can offer an extra set of hands around the house, assist you with gardening or cooking, help you with personal tasks like bathing and dressing and drive you to appointments, social engagements and more. You will have round the clock support how and when you need it by having our care team on site 24 hours a day.
We are able to offer care for a wide range of personal requirements, conditions and circumstances. Whether you want companionship and some help around your home, more specialised care for conditions such as dementia or Parkinson's, or if your family carer simply wants a holiday. Whatever you require, your needs are always our priority.
We provide an excellent, cost effective alternative to a care home or other residential accommodation and will match your needs, personality and interests to find the most suitable carers to provide a tailored service specifically to you. This plan takes into account your needs, routine, personality, social preferences, medical needs and favourite activities. Your live-in carer is there to make home life easier, safer and more enjoyable.
Want to find out more about our live-in care services? We can arrange for one of our advisors to come and see you and your loved ones to make sure you feel safe and your needs can be met. Contact us today by calling 01902 302017 or by writing to us at homecare@securehealthcaresolutions.co.uk.
Looking for private live-in care jobs? We have a range of different live-in care positions for you. Check out the full list of vacancies for live-in care agency jobs here.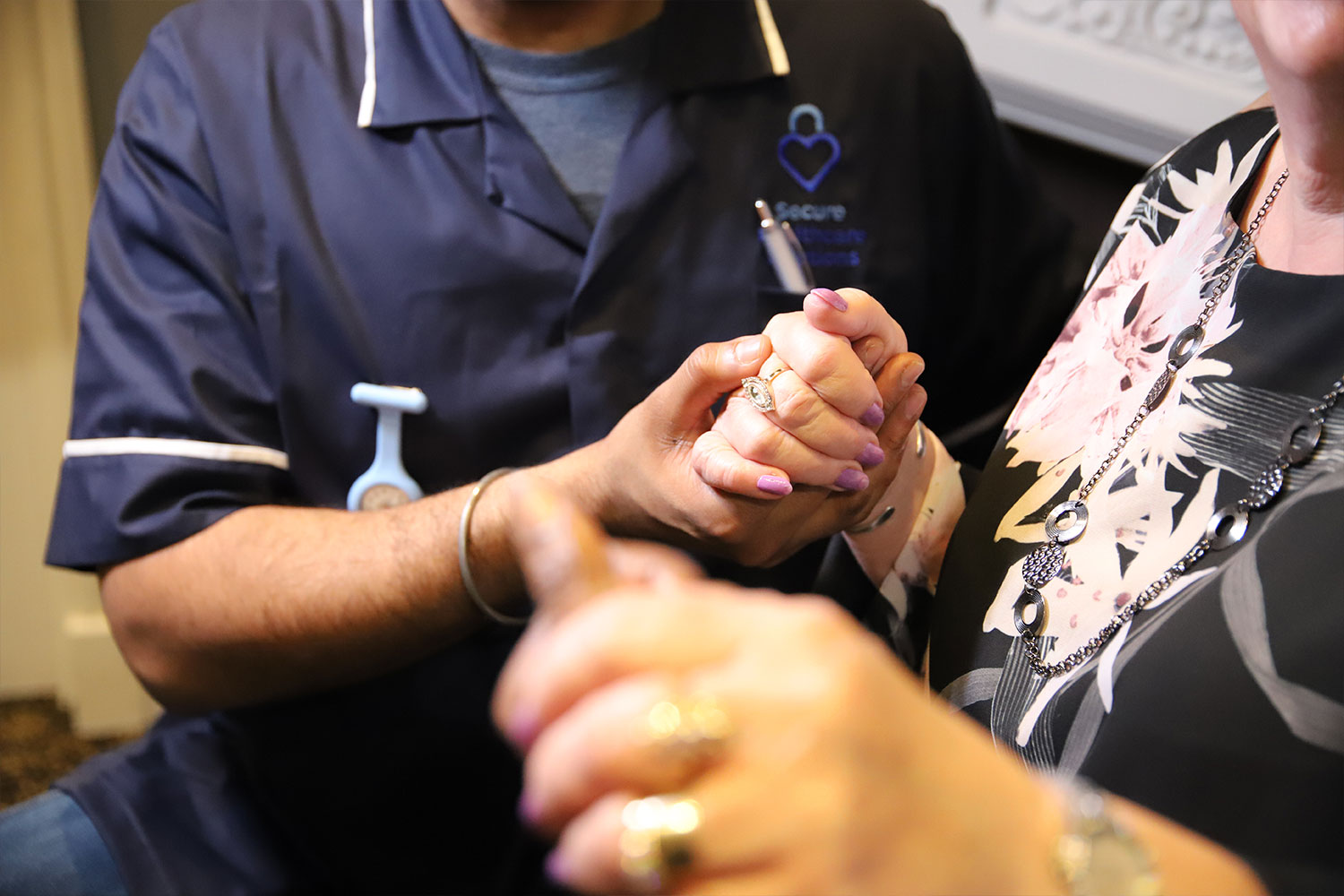 "I called for a job on Monday, received an interview on Wednesday and I started two weeks later."
John Stripe