Are you an individual, or do you have a family member in need of home care? Or are you an organisation seeking healthcare staffing solutions? Perhaps you are looking for your next healthcare career step? Secure Healthcare Solutions can help. We provide the highest quality of healthcare across England and are proud to have done so since 2015.
Care work can be a sensitive task, which is why our company is only built up of the most dynamic individuals with a wealth of knowledge and experience in healthcare. You can trust that your loved ones will be in safe hands with us, as we offer a full "out of hours" on call service and are always there to support you in your hour of need.
If you are an organisation that needs a temporary or permanent solution in the healthcare sector, our good old fashioned values and a knowledge of modern technology will ensure patient care is delivered to maximum effect. Our mission is to deliver the very best service to our ageing population and those with disabilities while reducing the cost of care and simultaneously increasing the pay to our committed staff members.
We pride ourselves on providing over and above the basic training for our entire workforce to ensure a consistently high service for our clients and service users. Our staff training programme is always active and up to date with the latest regulations.
A holiday is an important thing in life and allows people to relax, recharge and get away from the stresses of everyday life. If you or a loved one relies on everyday support a holiday can seem like an unobtainable pipe dream, yet that doesn't need to be the case. With our help our dedicated carers can provide a fully bespoke holiday plan that is tailored exactly to your needs and will allow you the break you need. Whether you are looking to head somewhere in the UK or further abroad, we can take away the stress and leave you to get excited for your time away.
How can I find holiday care near me?
If you are looking for holiday care in Walsall, Birmingham, Wolverhampton, Dudley, Walsall, Sandwell, Cannock, Birmingham and surrounding areas we are on hand to help. Here at Secure Healthcare Solutions we are well placed to ensure you will find the holiday care you need.
What will your holiday care include?
Our holiday care can be everything from sourcing the internet for the best accommodation and deals, to shopping for the essentials, organising prescriptions and assistance while on the holiday. We will talk with you to find out exactly what you want from us for your holiday and will ensure it runs smoothly from the moment you first decide to go away, to the moment you step back through your front door at the end of your trip. If you have specific complex needs, we can help find the right destination to suit, including accessible holidays if you have a wheelchair or aren't very mobile. If you are looking to head in the UK a self-catering holiday home is often a preferable option as it often has the most suitable facilities, but if you are looking to stay in a Hotel or other accommodation we can look into this and check suitability.
Some of the main things we can sort is:
24 care on holiday just as you would have at home
Assisting with transport to and from the holiday destination
Liaising with travel companies and booking the holiday
Assistance with your catheter or stoma if required
Administering medication as needed
Providing personal care such as washing, help getting dressed, brushing hair and teeth
Ensuring you get the nutrients you need
Making sure the accommodation is fit for purpose
Speaking with your doctors and healthcare professionals to ensure your medical needs are thoroughly met and the trip is safe for you
Pairing you up with a travel companion to suit your personality and preference
We are here to ensure that you don't have to miss out on a holiday just because it mightn't be as easy to get away as it could be. We will ensure you have complete peace of mind each step of the way and the high quality of care we provide for you continues no matter where you are.
Want to find out more about our holiday care service? Contact us today and one of our advisers can discuss with you how we can support you. Call us on 01902 302017 or write to us at homecare@securehealthcaresolutions.co.uk.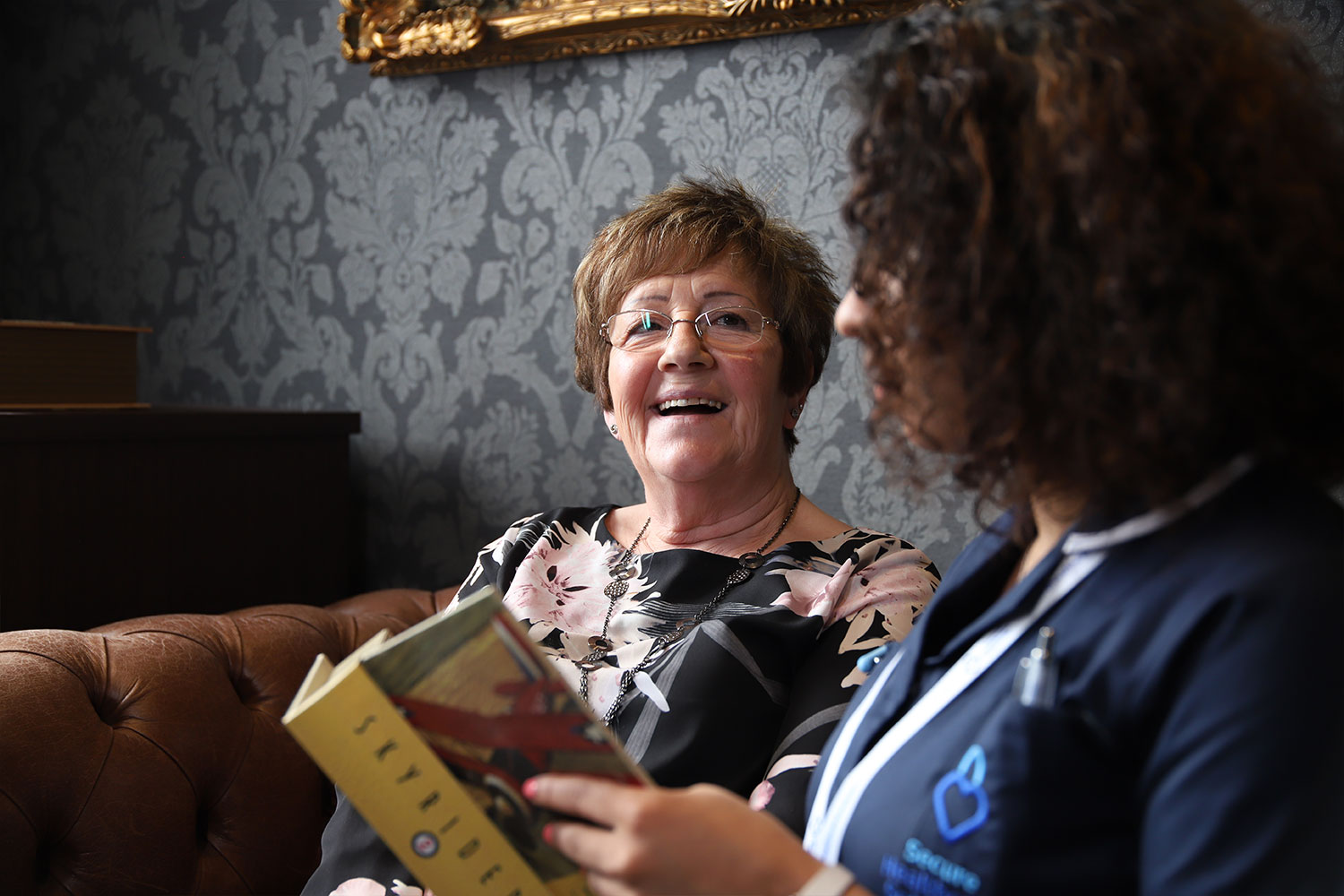 "I would recommend their service to other healthcare providers, and have done this recently."
Gina, Care Centre Manager