Need Home Care Services in Wolverhampton ?
Call us on 01902 302017 or write us to homecare@securehealthcaresolutions.co.uk
Secure Healthcare Solutions is the complete one stop solution for all healthcare staffing needs from care homes, nursing homes, NHS, private hospitals and community services.
Secure Healthcare Solutions has grown to be one of UK's largest providers of healthcare staffing, in-home support, care and respite services to people with disabilities, the ageing population and their families.
As well as cater to the needs of the individual service user, we can assist our clients in meeting their staffing needs on a permanent, temporary and a contract basis.
Our clients can expect :
– A personal local account manager
– 24/7 support line
– Online support zone
– Self billing
– Online time sheet and invoice verification
– Large database of healthcare professionals
– 30 minute or less response time
– Free bespoke training in some cases
Want a healthcare job with one of the fastest growing health & social care providers?
Secure Healthcare Solutions care deeply about creating great, long lasting jobs. As one of the fastest growing health and social care providers, we have a wide range of job opportunities available and the list is continuously updated so you have the best chance of finding the perfect job for you. From healthcare assistants to support workers, community care assistant jobs, community palliative care roles, specialised care and complex care roles to home carers, Secure Healthcare are looking for dedicated and passionate care workers willing to deliver high standards of care.
At Secure Healthcare, we know our staff are our main asset and the high quality standards of care our staff deliver are the reason our clients continue to use us. Secure Healthcare cover nursing homes, care homes, NHS, private hospitals, prisons and community work in the West Midlands, East Midlands and London.
Full-time agency workers are welcome, with block bookings and contracts available. Such workers can expect these benefits when working with us:
Easy access to a wide range of training courses
Free training, uniform and badge
HCA/SW or Nurse of the month awards
Ability to take part in international/national events and fundraisers
Opportunity to pick up flexible work close to home
Paid referral schemes
24hr out of hours service with attentive on call staff
Ability to get you out to work within 24hrs (pending mandatory compliance documents)
Free or highly discounted clinical training sessions
Offering the opportunity to all our candidates to be apart of an expanding Secure Team
No matter if you are looking to work in the field of quality personal home care services, respite home care, home care assistance, children home care, and elderly care, we have a multitude of roles to suit. Our healthcare jobs cover Wolverhampton, Dudley, Sandwell, Cannock, Birmingham, Stourbridge, and many other areas around the UK. No matter where you are based – or if you are looking to relocate – we can accommodate you with your ideal position from community care jobs to community nurse jobs and an array of other positions.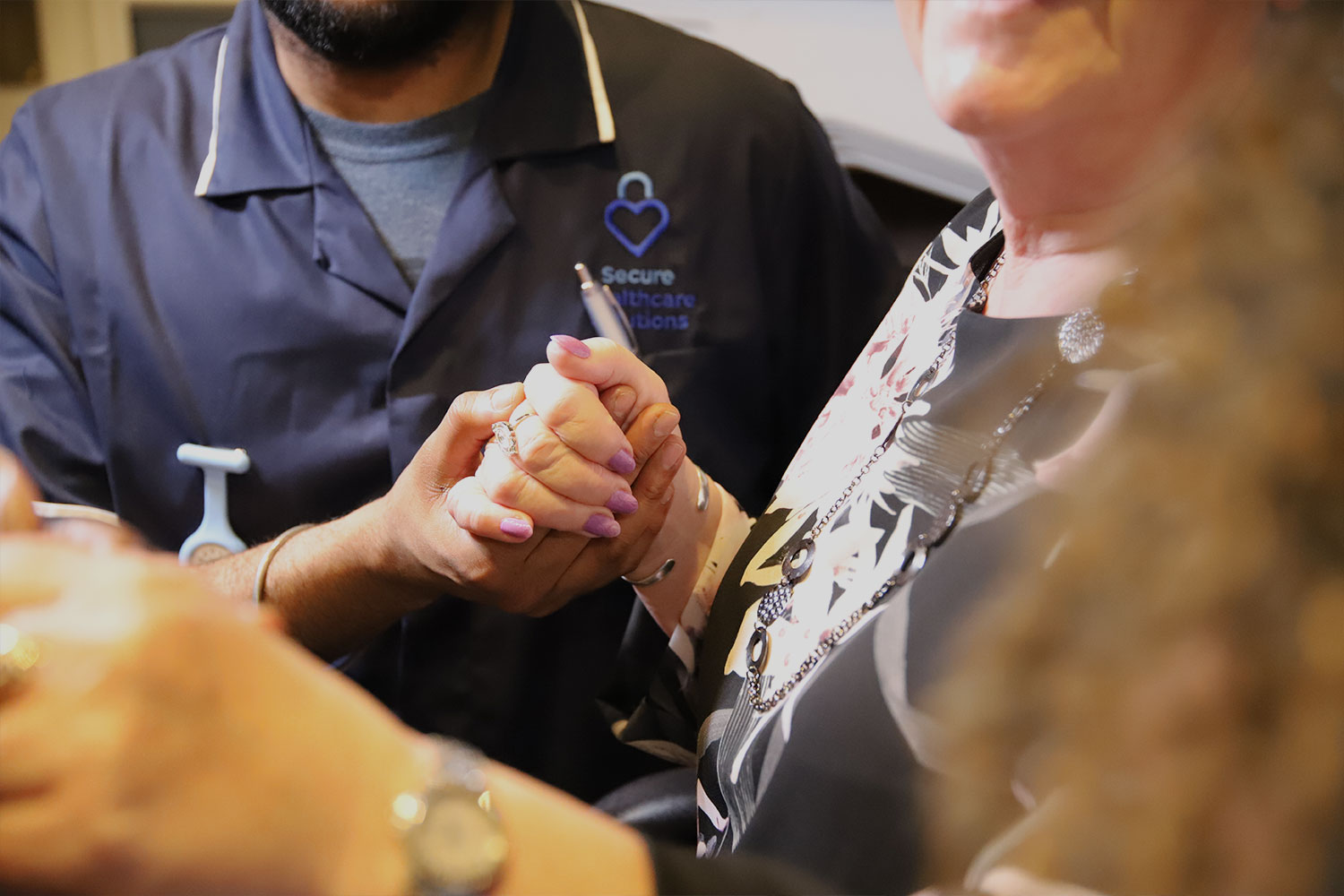 Register today with one of the fastest growing healthcare agencies in West Midlands. There has never been a better time to join Secure Healthcare Solutions in a full or part time job. Applications can be made easily due to our SHS Candidate App. Applications can be completed in the comfort of your own home.
We pride ourselves on our high levels of home care, community care, elderly care, respite care and personal home care services. If you are a dedicated and hardworking individual don't hesitate to get in touch with us today and find your perfect role.
View Our Home Care Sectors: